SOLERGY Solar Thermal Collector Label for North America
SRCC offers the SOLERGY collector label for North America for qualfying solar thermal collectors with OG-100 certifications
The innovative and consumer-friendly SOLERGY label has been available for locations in the EU since 2016.  The design originated with the European Energy Label (ErP), which provides easy-to-read information the energy consumption of many devices in the EU.  DIN CERTCO and the Solar Heat Initiative (SHI) recognized the need for such a label for solar thermal collectors producing energy onsite.  The new label added A- to AAA performance ratings showing the energy production capacity for different regions in the EU and different applications.
Since then, DIN CERTCO and SHI have published numerous labels for many different types of solar thermal collectors, produced by various manufacturers. The use of the label is optional in the EU, but numerous manufacturers have seen the value and have opted to participate in the labeling program. All can be viewed on DIN CERTCO's online SOLERGY directory. And the products are now sold with the recognizable label in that market.
In 2023, DIN CERTCO and SHI released a revision to the label designed for use in North America.  And they partnered with SRCC to offer it for OG-100 certification holders.  The label, shown below, provides the same easy-to-read design, with ratings customized for North American climate regions.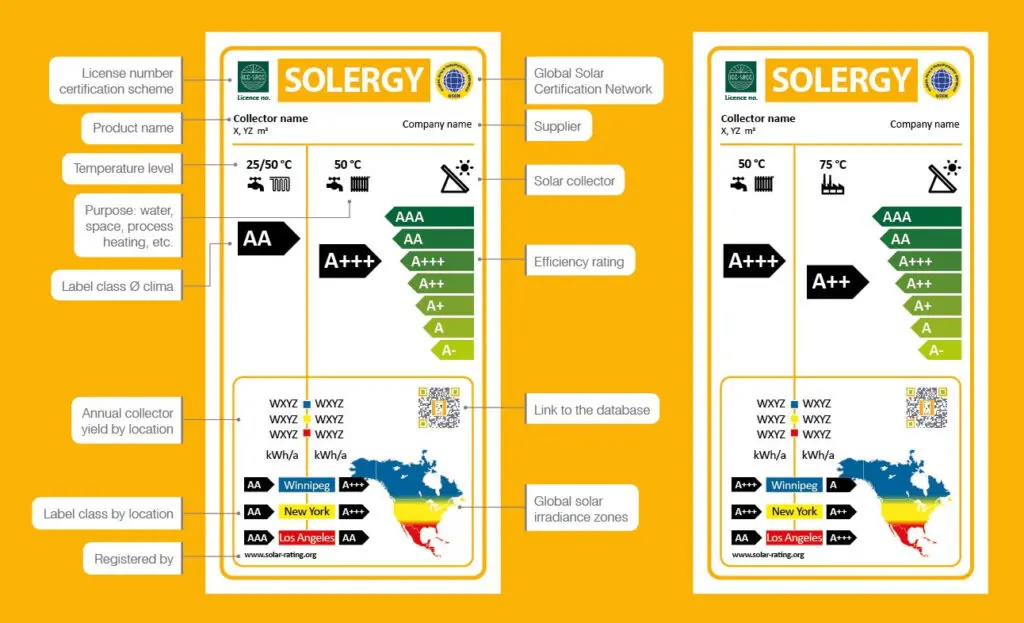 Through the partnership, OG-100 certification holders with qualifying solar thermal collectors may opt in to the SOLERGY label program.  Qualified collectors must have been tested per the ISO 9806 standard (as required by the ICC 901/SRCC 100 standard used by OG-100).  Presently the SOLERGY label is available for flat plate glazed, tubular glazed and PV-thermal hybrid collector types.  Once awarded, manufacturers are provided with customized SOLERGY labels for use in their marketing materials, websites and product labels.  And the collectors are added to DIN CERTCO and SRCC's directories of SOLERGY labeled products. 
To apply for the North American SOLERGY label, submit an application on the SRCC portal. And those manufacturers seeking the SOLERGY label for the EU can continue to apply directly to DIN CERTCO. Manufacturers are welcome to have both the EU and North American labels for their solar collectors. Or they can have either location label individually. Contact SRCC for more information on the benefits of the SOLERGY label.